The United States Food and Drug Administration (FDA) announced that Ferrero U.S.A., Inc. will recall two of its chocolate products sold in the United States. The recalls were voluntary and were due to potential salmonella contamination. Although this recall may be disappointing or concerning to some chocolate lovers, this voluntary recall was a smart business move by Ferrero that potentially saved them from later liability.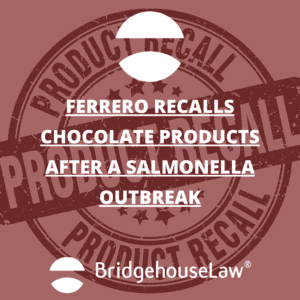 This recall comes out of an abundance of caution after roughly 100 salmonella cases were reported from their products in Europe. Both the chocolates in the US and Europe are manufactured in the same facility in Belgium.
The two chocolate products being recalled in the US are the Kinder Happy Moments Chocolate Assortments and the Kinder Mix Chocolate Treats Basket. The recall includes all of these products in the US with a best before date up to October 7th, 2022.
Though it may have been disappointing to have to recall thousands of products before one of the largest chocolate buying days of the year, Ferrero made a wise decision. When importing goods overseas, businesses must make sure that their quality control is impeccable.
Ferrero had a lapse in their quality control and must fix it, but the recall, if instituted properly, could protect them from some kinds of liability if someone becomes sick from eating their product. If the recall is conducted poorly, the recall could increase the chances of liability.
It is vital to have a recall plan in place for your products before it is ever needed, that way you can act fast, have a consistent message, and correct the issue.
If you are in need of recall planning legal consultants, contact our team at BridgehouseLaw.
To get more updates on international stories related to business, law, immigration, and more, check out our other blogs.